About Us
Globe Ventures is operated by a team of industry professionals pooling their skills and experience, acquired over years of providing specialized service in their respective fields. At Globe Ventures it is our commitment to provide Total Solution© to your business. Whether it is a Retail or FMCG, Media & News Network Service, Hospitality, Travel, Aviation or Food Services or promoting a Community Cause on a commercial or a no profit no loss basis.
Vision:
Globe Ventures was conceived with a VISION to provide Professional Services at One Window.
Mission:
At GV it is our MISSION to Commit ourselves to provide Total Solution© to a business venture.
The Pioneer: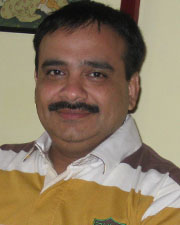 Hitesh Thakkar
A hospitality professional, a foodie and a hobby chef. An avid music listener and someone who loves to strive for perfection.
---